Sunday, November 27, 2005
Woke up this morning at the crack of dawn and headed off to the gym to sweat and get the heart beating after spending the last three days eating too much food and laying around. Got home and made my two sons breakfast before we headed off to get a Christmas tree. Normally I spend way too much time agnozing over getting the perfect tree but this year I picked out a five to six foot Noble Fir tree in record time of less than five minutes. Raced over to the cash register, headed out the door, and shoved the tree in the trunk of the car and boogied home. Spent the next couple of hours decorating the tree and the house while listening to my favorite Christmas album, Christmas with the Cambridge Singers.
Posted by

Bilbo
at 9:32 PM
No comments:


Saturday, November 26, 2005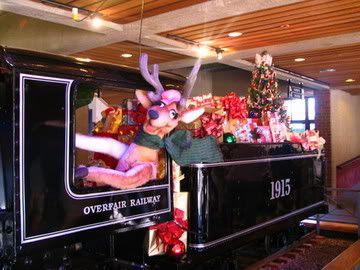 Posted by

Bilbo
at 11:39 PM
No comments:


Just got back from Sacramento a couple of hours ago and thought I would take the advise of a friend and update my blog. It's been a hectic month on numerous fronts and haven't updated my blog because I decided to spend my precious computer time interacting with others instead. I enjoy blogging but enjoy interacting with others more....Had an interesting Thanksgiving vacation. Visited my uncle and mom in Sacramento and took a trip to Placerville last night to see the Christmas lights. Placerville is a old mining town from the Gold Rush days which has transformed itself into a robust tourist town these days. Last night thousands of folks from the area gathered on main street to see the lighting of the Christmas tree and ride an old stagecoach up and down main street. The ambiance was nice and the night was crisp and just perfect for the beginning of the Christmas season.....Spent most of today in Old Sacramento. Went to a way cool Railroad train musuem. See pics above and below. Pleasantly surprised because neither the magnitude of the museum or the quality was evident by looking at the outside of the building. Later we went to downtown Sacramento and I took some pictures of the capitol building. All in all it's was a good trip. Tomorrow am going to put up the Christmas tree if I can generate the motivation. Came back to town to a series of problems. I think my clutch is going out on my car and my heater in the house doesn't work....and....to add insult to injury....Recieved an unsatisfactory court ruling in the mail. Am really pissed off because I recieved some bad counsel from my lawyer and have become totally disallusioned with the court system and lawyers in general. Honestly no longer feel the court system has anything to do with justice anymore and feel it's just one more institution in this country that needs to be reformed from the bottom up. Tried for over two months to settle with the other party outside of court but as they say, it takes two to tango. Just really frustrated right now because I honestly don't know what to do. Have tried everything I know from my end of things. Need to really regroup and come to some kind of acceptance of my current situation. Not easy to do but don't want to become consumed with anger or frustration because that's like entering a black hole....Christmas season is officially here and hope that we can all find some kind of peace and joy this year. Early news stories don't offer much hope. All the crazies fighting and standing in lines for hours just to get some new gadget. Can't help feeling like our society is unraveling at the seams. Not a very cheerful holiday thought to end with but I don't feel too cheery myself right now and that's just the way it is sometimes.....